Bali surf seasons: is there actually any difference?
July 29, 2020 | 0 Comment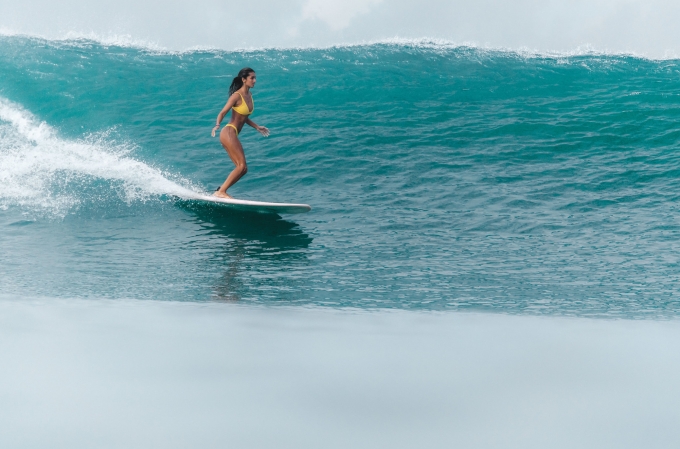 The weather in Bali changes four times a year, and you can count three types of the season: the rainy season, dry season, and let's call it a transitional season. Though waves are good for surfing all year round, each season has some features that affect the conditions.
We decided to describe it in detail, so you can choose the time of the year which will be perfect for your surf trip to Bali.
---
DRY SEASON
From June to September
Padang-Padang in August
Weather
The dry season is the coldest time of the year in Bali. Ok, you can joke on the word "coldest", but it's really the time when we kinda dress up. During the day sun is shining and the average air temperature is 27-28°C, but at night it drops up to 22-24°C which is really cold for those who used to tropics. After the sunset, you feel up to wear long sleeves or a jeans jacket. And you can get really cold just before sunrise when you drive your motorbike to surf spot for early morning sesh.
Water temperature also drops to 26-27°C. It is still comfortable to swim after sunbath at the beach, but when it comes to two hours of surfing, it's different. Especially if it's a bit windy, and you're sitting wet on your surfboard, waiting for the wave but thinking about goosebumps running all over your body. So, at this time of the year, it's a good idea to wear spring wetsuit 1 or 2 mm thick.
Wind
Sunrise and sunset usually are called Golden Hour not only because of the yellow light but also because there is no wind, conditions are glassy and really precious. During the dry season this Golden Hour is literally and hour, ok, sometimes it's 2 or 3, but the wind picks up by 9 a.m. and blows quite strong during the day. Try to count kites in the sky above the ricefields. It's countless! This is one of the Balinese tradition, usually, in July or August, there is even a Kite Festival that attracts dozens of competitors from Bali and other Islands.
East wind prevails, which means that it blows from East to West. It's off-shore or cross-shore for surf spots on the west coast. If the wind is not too strong, it doesn't ruin good surf conditions.
Waves
July and August are months of big swells. It depends on global processes and deep ocean storms, but sometimes it may happen that huge swells are coming one by one without any gap in between. It might be difficult to find beginners spot when it's pumping. But not for locals, of course, we know all secret places.
Long story short: high-quality ground swells, big waves for advanced surfers, secret spots for beginners, relatively cool weather, windy during the day, spring wetsuit is a good idea.
---
RAINY SEASON
From December to March
Weather
In the southern hemisphere, it's Summer Time, which means that the sun is very active. This is actually a reason for frequent rains: sun evaporates a lot of water from the ocean surface, it produces thick clouds that float to the islands, got caught by volcano tops and flash down to the ground with heavy tropical rain. Air temperature is above 30°C round-the-clock and water is pretty much the same. Water doesn't refresh you at all. Therefore, it's better to surf early in the morning or at sunset. If you up to surf at noon, we advise you to wear a hat and a rashguard with long sleeves, otherwise, it may end up with heatstroke. And don't forget to drink plenty of water.
Though the sun is very active, clouds and rains protect the island from the overheating. And remember that rainy weather in tropics is not the same as in Europe. It's doesn't make everything look grey, on the contrary, nature around becomes more bright! Trees start to bloom, and the streets drown in lush greens with bright flowers.
It's almost never rainy from morning to evening, usually, weather changes a few times during the day. And it's always sunny after short heavy rain. If you rent a motorbike, make sure to put a raincoat inside it to have in on hand in case of sudden rain.
Wind
During the rainy season, the wind changes its direction and blows from west to east. It ruins surf conditions on the west coast, so it's kinda off-season for this area. But the east coast offers spots for surfers of all levels from beginners to advanced. Sometimes wind may drop off for a week, and we can enjoy home spots in Canggu, but it's rather the exception and luck.
Waves
Big swells are rare in the wet season, but it's really good for beginners and intermediate surfers because most of the east coast spots are reef break. The wave is more hollow at this type of spot, so it's better to learn when it's not pumping.
There is another problem during the wet season. Rains fill up riverbeds and flushes to the ocean everything that stacked there from the dry season. Unfortunately, it's not only organic but also some plastic. It's sad, but in recent years we really see big improvements, many people reduce the usage of plastic products and switch to reusable products. We support waste management initiatives in the West Bali area together with local NGOs and governments of the Jembrana region.
Long story short: Weather is hot with short but heavy rains, water temperature 30°C, West coast is off-season, East coast offers surf spots for surfers of all levels.
Kuta reef in December
---
TRANSITIONAL SEASON
April-May and October-November
Weather
Months between rainy and dry seasons are most killing. There are no clouds and rains, but the sun is either already (October-November) or still (April-May) very active. Every year it feels like it never ever was so hot before. At noon it's almost impossible to leave the room with AC. But it gets comfortable in the evening. And the good news is that water temperature is perfect, not too hot as at rainy season, but still warm enough to surf in boardshorts or bikini.
Wind
There is very little wind, so we can say that the transition period combines the best of both seasons: the west coast is on, and the daytime breeze is weak. You can surf both the east and west coasts.
Uluwatu in April
Waves
Same as at rainy season, big swells are rare, so we can enjoy nice mellow waves perfect for beginners and intermediate surfers. For advanced surfers, we offer surf-trips to spots that are swell magnets and produce bigger waves.
Long story short: One of the best times of the year for surfers, warm water, the biggest variety of spots, very hot during the day, but it's a perfect time for a nap between surf sessions.