Surfing Lessons in Canggu, Bali
October 04, 2018 | 0 Comment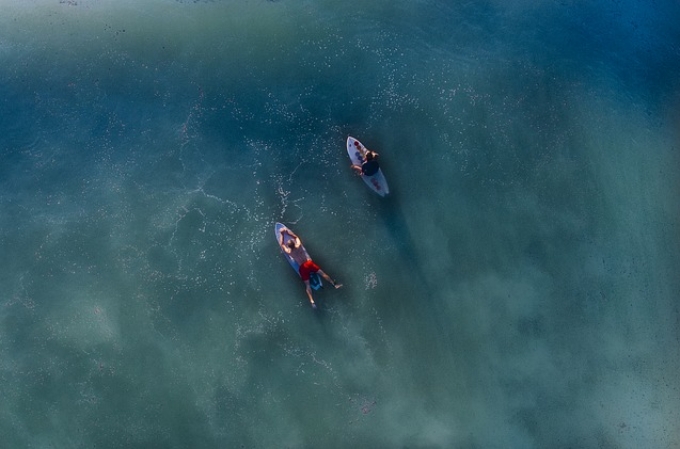 Have you been pondering the possibility of learning how to surf? If you like the idea of yourself on a board, surfing on big waves in the ocean, then taking some surfing lessons in Canggu might be precisely what you need. Taking a surf trip to Bali can combine two exotic things and wrap them into one bundle of joy, and that is surfing on an exotic destination.
Canggu is set on the south coast of Bali, and picturesque terraced rice paddies surround the village, turning it into a picture-perfect Instagram spot. The Canggu and Echo beaches, which are famous around the world for their strong surf, make it the ideal place for a surfing lesson in Bali.
If you're a beginner, then you need to understand the surfing conditions you will encounter when you visit the beautiful village of Canggu. There are many surf spots you can choose from, although our coaches will help you pick the beach that its best suited to your level. Batu Bolong and Old Man are semi-reef surf spots, while Echo Beach, Berawa Beach and the Pererenan surf spot are a few minutes away with a motorbike. The inside reef of the main beach is tricky at low and high tides because it cuts off the beach in places, so mid tide is often best, especially for beginners.
You can expect average weather of 27 to 32 C, and the temperature of the water is from 25 to 30 C. The wet season starts in November and lasts until March, and the dry season starts in April and ends in October. If you want to mingle with more people, then the pick of the season begins in July and ends in September during the dry season.
There are always surf spots to enjoy even when it's crowded. However, this is personal preference, and it's up to you to choose the time that works for you.
Bali itself has over 100 surf spots that are open for surfing across the year, and that is why it's called a surfing paradise by the community. If you're a little bit of an adventurer in heart, then there is more than learning how to surf here. You can explore the ancient temples, the breathtaking waterfalls, visit the local festivals and immerse yourself in the local traditions. Furthermore, if you're an art lover or a foodie, then Canggu will surprise you in the most pleasant way!
The village is still growing and expanding, so you will encounter a thriving community of people willing to share their culture, food, music and beaches with you. The charm of the people will completely capture your soul. The late-night parties at the beach and the legendary Deus with various local and international musicians can make your surfing holiday even more special.
Book a surfing lesson in Bali
Why would you book a surfing lesson in Bali? Other than the fantastic nature (just think of the rice fields and magnificent temples), and the strong surf, the other essential condition is the quality of knowledge, and In Da Surf can offer that in plenty. With over 10 years of experience in surfing, our instructors are able to check your level and plan the next step for your furthered development. Your safety is our primary concern, and choosing the right surf spots and boards is left to our professionals.
Our lessons tend to encompass everything from theory to practice. You will receive a basic theory introduction before the first lesson. Here we cover topics like paddle/take off technique, surf safety, etiquette and basic ocean knowledge. In the theory lessons, we will focus on teaching you more about waves, swell, tide/surf spots in general, surf spots in Bali and how to choose the ones suitable for you. Additionally, you will learn how to read a tide chart and check the forecast.
Once you get your feet wet and start surfing on the ocean waves, we'll make a video for you. This way we can explain, step by step, what can be improved in your stance (if it needs improvement) and give you some tips after the initial analysis.
Surf spots are chosen according to your level and swell condition. You don't need to bring a board because we'll provide one for you. We have a wide range from Soft top boards for beginners to short boards for advanced surfers. Every coach teaches only one to two guests because we want to provide you with our exclusive attention!
Come to Bali and learn to surf
Once you make the decision to come to Bali and learn to surf, the gates of the In Da Surf camp are open for you! Here we celebrate life and focus on your improvement. Our Bali Surf Camp was designed by surfers for surfers, and every experience is tailored according to your needs. It will feel like home because it is home. You can choose to stay in the Pool Villa, which features impressive rice field views, or in the Surfers House, which is surrounded by a lavish green garden that has a traditional Balinese temple in the backyard.
This is the perfect place to form new friendships, immerse yourself in Balinese culture and gain skills and knowledge about surfing! The camp is located close to the surf spot Batu Bolong and Old Man, and it's only two minutes away with a motorbike.
Learn to surf in Bali
You should learn to surf in Bali because of the surfing spots and the incredible culture. You should take a surfing lesson in Bali with In Da Surf because our only focus is to provide you with quality programs and the best accommodation. We created this surfer's paradise as a place where surfers from all over the world can come together and share their stories and passions. We even hold a Movie Night at Surfers House garden, a Tradition Balinese workshop and BBQ parties for our guests on a regular basis.