Surfing Holidays
October 04, 2018 | 0 Comment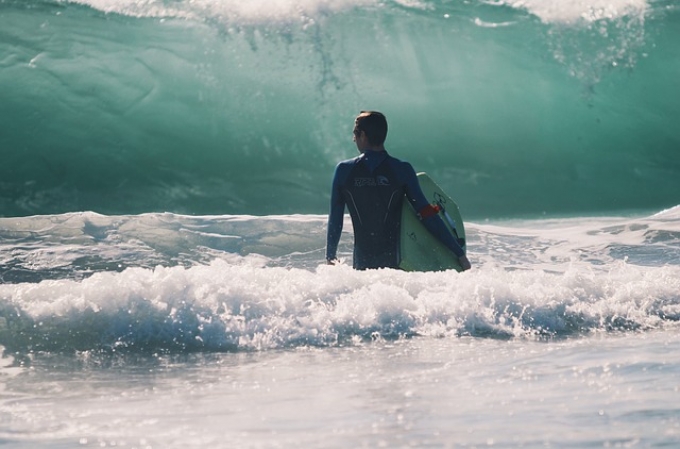 Welcome to the In Da Surf Camp in Bali, where we organize interactive, stimulating programs and surfing holidays for surfers all over the world. Our mission is to provide you with all the lessons, tools and knowledge you'll require to conquer the mighty waves of the ocean. Here with the help of our coaches, you can dive into the theoretical and practical parts of surfing, and enjoy the family spirit and enticing atmosphere of the camp.
The surf camp is located in Canggu, Bali, which is only two minutes from the surf spot Batu Bolong and Old Man with a motorbike, or 15 if you prefer to walk and take in the scenery. Depending on your idea of a perfect surf holiday, we can offer you two fantastic options for Canggu accommodation: the Pool Villa, which features a stunning rice field view, and the Surfers House, set amidst a beautiful garden surrounded by traditional Balinese temples.
Our program includes professional semi-private lessons with video analysis and theory, and our certified instructors and coaches will help you achieve the best results in an optimized time frame. We accomplish that by giving you our undivided attention. Each coach teaches only one to two guests at a time, and they are open to your questions and inquiries during the class.

Everything is tailored according to your preferences so that you can attain your objectives during the training. The instructors are a pool of knowledge, with over 10 years of professional experience, and they are trained to pinpoint your level and guide you to a higher one without any difficulty. Furthermore, they will have in-depth answers to all of your questions once you start with the lessons.
In Da Surf will book, organize and plan your surfing holiday to perfection.
A surf holiday in Bali
Are you thinking about booking a surfing trip in Canggu in order to catch some big waves and feel alive? That's our dream surf holiday in Bali too, on the shores of the Batu Bolong beach where you can ride the perfect wave. Now, let's dive into the tale of the Canggu village that turned into one of the most famous surfing spots in the area.
Canggu is a shoreline village in the south coast of Bali, and it's approximately 10 kilometres north of Kuta. The community is famous around Bali for its soothing setting, where you can experience another level of exotic dining, cultural and beach activities. One of the fascinating spots you can visit on your stay here is the Pura Mrajapati (a type of pura to worship Prajapati- the lord of people, or the cosmic might), a Balinese temple that will bring you peace and serenity once you enter it. If you love Balinese spirituality, the other two main temples you can visit are Pura Batu Bolong and Pura Batu Mejan. However, the reasons Canggu is becoming famous are the incredible beaches that surround the village.
Batu Bolong beach is a paradise beach for surfers that are seeking a challenge. The powerful waves of the ocean are perfect for surfers that want to experience more trills and boost their adrenalin levels. Beginners can have a fantastic time too, and enjoy the less challenging waves. Our coaches and instructors from In Da Surf will be with you at all times, so you'll have nothing to worry about, especially since your safety is our priority, and we have been teaching surfers for more than 10 years. The exotic views will accompany you while you're surfing, and the emerald-green trees in the distance that are hugging the beach can be quite an incentive.
Surfing vacations
Our semi-aquatic existence as a human species in whole lasts for more than 8,000 years, and it explains why we're so drawn to the ocean and its hidden secrets. We love to play with/on the water as surfers and explore it as divers because it brings us closer to a specific, natural state of mind. If you're drawn to the big, blue ocean, then the surf training in our camp can be the ideal opportunity for you to develop a new, useful skill that might take you one step further in your surfing style.
The end-goal is for you to prepare yourself for any situation, and to be comfortable with the risks because you'll have the experience that allows you to take them. Another essential part is the mental strength required, but as a surfer, you are familiar with the concept and aware of how much your mental state is affecting your surf. In this part, our coaches will teach you to understand your reflexes and instincts, and how to control and apply them.
We'll also let you in on a little "secret", if the body and the mind are relaxed, the oxygen consumption is lower, and thus you'll be able to withstand longer periods of time underwater. We can schedule and organise a surfing vacation for you, so you can go out and experience everything we taught you in real life. Don't worry, as your designated instructor will be there with you all the way.
Why is In Da Surf camp the best surf vacation?
All of this magic and effective knowledge sharing happens in our surf camp. In Da Surf camp celebrates the joys and beauties of life and inspires you to surf and enjoy the ocean as much as you possibly can. Here you will meet like-minded travelers that share your passion for surfing and form lifelong friendships.
We want to welcome you like part of the family, and share with you the knowledge we have acquired over the years. It doesn't matter if you're a solo traveler discovering the ocean one step at a time, a couple, a group of adventures or a family, because our doors are open to all!
We understand your passion for surfing in Indonesia, and we want to provide you with the best surf vacation in the country. Every part of the surfing holiday is designed with the surfer's experience in mind. Your safety and pleasure are of utmost importance to us, which is why we consult with you and measure your experience level before we pick the surfing spots and the intensity of the training. You will feel like you're on a surf paradise, learning how to conquer the ocean with your board.