Epic Surf Trips to Bali, Indonesia
October 04, 2018 | 0 Comment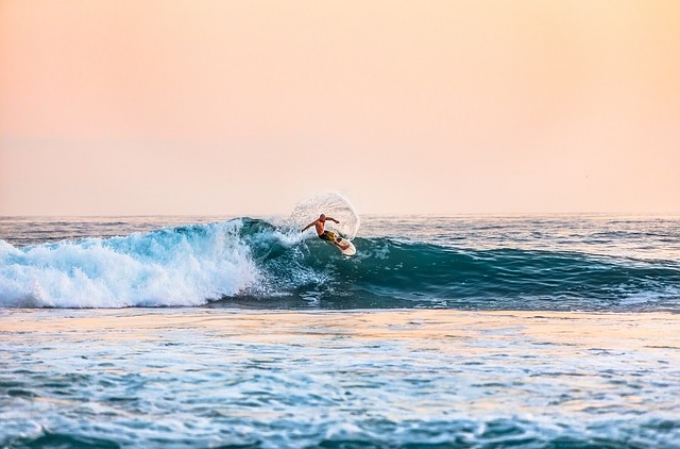 There are few people in the world who have not dreamed of visiting the Island of Gods at some point in their lives. Bali offers everything you could imagine, even in your wildest dreams — from crystal clear turquoise water, to volcanic hillsides, to the breathtaking black sand beaches!
Every sight of Bali's magnificent landscape will feel like a touch of paradise, but it wouldn't be a complete Indonesian adventure if you did not try out surfing in this little piece of heaven, would it? Make sure not to miss out on seaside's number one leisure activity, and let your surf trip to Bali begin!

Though sunbathing on Bali's endless pristine beaches is a time well spent on its own, there are dozens of other activities you can take up and enjoy your time there living like a native! Whether you are a photography enthusiast who wants to take up some underwater photography lessons, an amateur surfer looking for lessons from a team of professional surfers, or an extreme sports lover who wants to blow some steam out, you are guaranteed to get the best of your experience!
There are hundreds of activities to suit every taste, and whichever you decide to go for is guaranteed to keep you longing for more! The reason why Indonesia surf trips have become the talk of the day is that they allow you a somewhat more intimate and relaxed experience, which you usually do not get in such tourist attractions. You can get truly immersed in the culture, and spend your time there living like a native!
Bali surf trips
Another great thing about Bali surf trips is that they are becoming more and more affordable, meaning that traveling on a budget will not stop you from visiting this nature's gem. If this was your main concern, you will be happy to hear that you will be able to get one of the best experiences of your life at a quite reasonable cost, depending on your accommodation choice and the travel cost, of course!
Speaking of the accommodation, you can arrange your next surf trip to Bali according to your taste and to the type of experience you are looking for when traveling. Hostels and surf camps allow you to fully take in everything Bali has to offer, mostly due to the fact that you will be spending all your days on the beach or exploring the beautiful landscape.
On the other hand, if you really want to pamper yourself and your loved ones and spend your time in a pool villa in between your surf lessons, you will also be able to enjoy your trip to Bali on a more luxurious note. Whether your go-to choice for accommodation includes staying in a surf camp, a stay and surf hostel near the beach, or the extravagant pool villas, you surely won't be let down with the island's accommodation selection. Find your perfect accommodation match now, and get ready to surf your way to nirvana!
Now that you have picked out your dream place to stay, you will want to look up your options for surfing lessons, right? No matter what your experience level when it comes to surfing is, Bali surf trips offer lots of different surfing experiences for everyone! If you already know your way around the surfboard, you will be able to rent out a board and hit the waves as soon as you get on the beach!

However, if all of this is quite new to you and you want to learn the surfing basics from professional surfers and surf coaches before you get the courage to get on the board, you will have someone to care of you! The surfing season in Bali begins in winter time, from June to September, because this is the period in which the winds are the most favorable in terms of surfing. However, keep in mind that swimming is not quite advisable in the winter season due to the same reasons! But hey, you would rather spend your time taming the waves in the first place, right?
Learn how to surf on your Indonesia surf trip
As you can imagine, beginners require some extra time and effort in order to learn how to dance with the waves, so finding an experienced surf instructor is a must! Luckily, Bali's surfing experts are willing to do that and much more in order to help you master the perfect technique of riding the waves. So, if you are not an experienced surfer (yet), your main concern should be finding a great instructor and spending some extra time on finding the best of the best, and you can find them on your Indonesia surf trip.
Another great thing about getting an experienced surfer to teach you everything from scratch is that they will already know the best places to do it in. Finding the best suitable spot for your experience level is definitely a must, because you will need calmer waters if you are just taking up surfing. Getting immersed in the surfing lifestyle will be that much easier if you have an experienced mentor by your side, so make sure to check out this simple guide for beginners, and start off your surf trip to Bali!
Well, it seems that you already have the most essential information you need about your next surf holiday to Bali, so you are almost ready for the adventure of a lifetime on the Island of the Gods! The only thing left to do before packing up your surf gear and hitting the road (or hitting the waves in this case), is to book your surf holiday! Whether you are traveling alone, with your significant other, or with a group of friends, your surfing adventure will be the experience of a lifetime.
Once you get immersed in the Indonesian culture, cuisine, and lifestyle, you will surely be coming back for more in years to come! So, what are you waiting for? Get ready for your surf trip to Bali!