Summer Surf Camp for Kids
July 06, 2020 | 0 Comment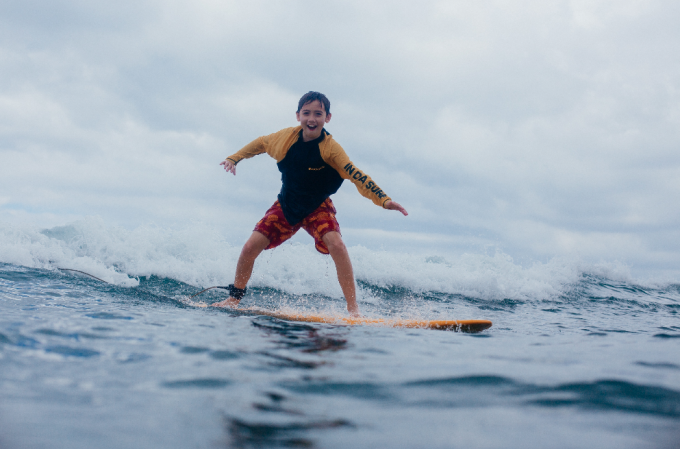 ---
Summer is the time of school holidays so it's usually associated with a family vacation. But in fact, it's not always a proper vacation for parents: we all know how much time and energy it takes to entertain a child! Our team prepared a perfect solution for both kids and parents: educational summer surf camp program, that will run from June to August 2020.
We want to encourage all children to have fun and enjoy life after going through these difficult times and spending most of the time at home. Meanwhile, parents will also have the opportunity to relax and devote time to themselves. Every day from Monday to Friday we will pick up kids for 4 hours and make sure they have a great time.
---
---
Why is it good for kids?
Remember yourself in childhood. What do all kids want to do? They want to play, of course! And this is exactly what we offer: we engage them in an exciting game, during which they gain important knowledge and skills. Moreover, the experience we offer with this summer camp is not only about surfing, but also how they learn to be themselves. We have set the schedule according to the essential rhythm: first, we take kids to the beach where they learn theory and practice surfing. Then we are heading to our surf camp in Canggu to have snacks and shift from physical activity to more calm pastime: surf lesson video analyzing. It not only helps to improve skills but also inspires kids to look forward to the next lesson!
We also provide very important theory lessons adapted specially for kids. They will learn about waves, tides, equipment, and safety.
Social interaction is an essential part of our program. For kids, it's much more fun to learn surfing together with other groms. And it's more effective due to competitive excitement.
---
---
Why is it good for parents?
As we mentioned above, parents will have an instant benefit – 4 hours per day without the duty to watch kids. But more important is that kids will get acquainted with the ocean under the supervision of experienced professionals. It is extremely important as kids usually have fewer fears and may get overexcited with a new experience, so they need to be full time under professional guiding.
If you ever tried to teach your youngster how to surf, you might know it's not a walk in the park. You have to carefully choose the conditions, create the right mood, make the child feel comfortable. And let's be honest, exactly because parents always teach their kids, much advice just go in one ear and out the other. After a week in the surf camp, your child, of course, will not immediately turn into a professional surfer but will learn a lot, including safety in the ocean.
Who can join a surf camp
Indasurf Summer camps are suitable for children and teens from 8 to 14 years beginner to intermediate level. Minors under 8 can join the program in case they already enjoy surfing. Otherwise, it might be before time. Quite often, it is difficult to concentrate on one activity and hold attention for a long period for 5-6 years old kids. But the main requirement is the following. Kids have to be interested in surfing. We are 100% serious now. It's not gonna work if child indifferent or, even worse, resist.
The second requirement is the ability to swim. It's also very important. Kids have to know how to swim and be confident in the open water. Not only in the swimming pool but also in the ocean, in small waves. Sometimes kids might be very skillful in the pool but feel confused at the beach, scared to dive and nervous when they can't feel the bottom under their feet. We are here to provide excellent assistance but not to fight the fear. Learning how to surf supposed to be fun and enjoyable.
---
---
How to prepare for surf camp
So, if your kid already surfs, obviously he or she would like to spend a great time in water and improve some skills. But what if you are not sure your child is curious enough? Try to watch some surf movies together and see the level of interest. You can walk in surf-shop and pay attention if kid touches surfboards, looks at the equipment with curiosity, wants to try. But of course, the simplest way is to ask!
As for preparation, we provide all surfing equipment but advise your children to bring the following items during summer camps:
- Swimsuit and rashguard
- Water bottle
- Changing clothes
To restore energy after surfing lesson we serve banana pancakes or toast with jam and fresh fruits or fruit juice. Kids can also bring some snacks and store them in the fridge at the camp.
Footage from the lesson is yours, but we don't send videos online, so please, bring a USB device to download it.
We provide health insurance during surf lesson but the coverage is limited according to our general terms and conditions: medical expenses Max. IDR 10.000.000 and ambulance expenses Max IDR 2.000.000. Just in case we recommend having personal health insurance.
Summer surf camp program
We offer semi-private surfing lessons (2 to 1 ratio) to ensure the highest quality safety practices and personalized attention for each child with a family-style atmosphere. Depending on the kids' level, private sessions can be offered without extra charge. During the lesson, there will also be an assistant guide together with the coaches who will support kids in the water.
We have coordinated with the local government and we will apply the health protocol recommended by the government during the summer camps. We invite beginners and intermediate level surfers who want to improve their skills. Since the lessons are accompanied by a sufficient number of instructors, we can provide suitable training appropriate to the level and experience of the child.
---
---
During Surf lessons kids will learn:
- Surf Basic - paddling, catching waves, popping up
- How to read waves
- Ocean awareness: Surf safety, etiquette,
- Turning techniques: Riding down the line, timing, body positioning
- Surf spot analyzing
- Mental preparation
Theory lessons are the following:
- Waves, tides, type of surf breaks, safety
- Paddle techniques and analyzing
- Understanding your equipment (surfboard design, different shapes, surfboard care, waxing, how to choose the surfboard)
---
---
Our head instructor is ASI (Level 1 & 2) and ISA certified, and all our coaches are ASI Level 1 certified. They have Lifeguard and First Aid certification, and also have more than ten years of surfing experience.
We promote the idea that surfing is fun and entertaining, it forms an easy attitude both to the sport itself and to the learning process. As a result, kids gain new skills very fast and have a really great time!
Join our Summer Surf Cams! Click here for dates and detailed schedules.