Surfing for Beginners
October 04, 2018 | 0 Comment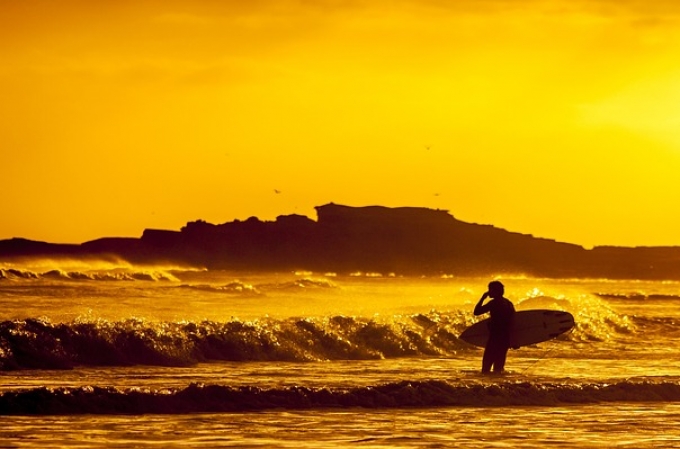 We bet you saw some incredible pictures of surfers catching powerful waves, or you're following some of the popular big waves accounts on Instagram and a video caught your eye. If that got you thinking about learning how to surf, then we're glad you were inspired, because we offer the best surfing in Bali for beginners.

Our program, surfing for beginners, covers every part of surfing, from theoretical lessons and training to actual surfing with the help of our coaches. Each of our professionals has been with us from the very beginning, and they have over 10 years of surfing experience. Our motto is quality over quantity!
When you sign up for our beginner's program, our coaches will assess your previous knowledge (if you have any) on the subject and determine how to proceed. You will receive semi-private surf lessons and a program tailored exclusively according to your needs and requirements. Most of our guests that are just starting out need more than five days to take in all the information and techniques we have to share.
What you'll learn as a beginner includes:
Basic theory introduction

Paddle/take off technique

Surf safety and etiquette

Basic ocean knowledge

One-hour theory lesson on waves, swell and tides

Surf spots in general

Surf spots in Bali

How to choose a suitable board

how to read a tide chart

How to check the forecast and more.
You don't have to bring a board because we will provide one for you during training, and you can also use it after class. We have a wide range from Soft top boards for beginners to short boards for advanced surfers, and once you learn how to make the distinction, it will be easy for you to choose one for yourself.
Surfing in Bali for beginners
Why should you go to Bali to learn how to surf? First, because you can turn it into the best surfing holiday ever, and second because Bali features impressive beaches and surfs that are beginner friendly.

Bali has over 100 surfing spots available for surfing all year long, and it's the new, trendy surfing paradise for surfers of all levels. However, that's not the only thing that makes Bali an incredible choice for you.
If you want to go on an island adventure, Bali has a lot to offer in that regard. The place is filled with fantastic panoramas, from picture-perfect sunsets over cliff tops to emerald-green rice fields and turquoise rainforests. You can discover breathtaking waterfalls like Gitgit waterfall, Tegenungan waterfall, Blahmantung waterfall, Nungnung waterfall, Aling-Aling waterfall and many others. They are all tucked in lush green settings, deep in the jungle.
If your love for food is parallel to your enjoyment of surfing, Bali is an amazing option because of the mix of international and local cuisine. Here you can find dishes that transform the Mediterranean traditional food with island ingredients and spices.
There's more! If you want to immerse yourself in Balinese culture and admire the native art communities of craftsman and artists, then visiting local festivals and taking part in their traditions will help you achieve just that.
As we said in the beginning of this section, Bali is a surfer's friendly spot, so surfing in Bali for beginners can be more than an opportunity to learn, it can also be a surfing holiday you'll never forget!
Bali surf spots for beginners
Where are we going to take you surfing? Here at In Da Surf camp, we decide on a surfing spot once we check the weather, the condition of the swell/tide and your progress during the training. Our Bali surf spots for beginners are on Batu Bolong beach and others. We will take you to the most famous surf spots for beginners in the Canggu area, along with some secluded surf spots we found during the last couple of years.
The best time to visit Bali is during the dry season from April to October, although the temperature is relatively the same (27-32 C) all year round. It gets crowded in Bali from July to September, but if you don't mind too many people, then our doors are open to you. Beginner waves can be found in Bali all year, and our coaches will be more than welcomed to take you surfing to the best beginner surfing spots in the area.
Bali surf camp for beginners
Where will the training take place? It's in our Bali surf camp for beginners located in Canggu, and it's only a two-minute ride from Batu Bolong and Old Man surf spot. We can also pick you up and drop you off from Ngurah Rai Airport in Denpasar free of charge if you're staying with us for more than 7 days/7 lessons. The accommodation available at our Surf School is the Pool Villa and the Surfers House hostel.
The Surfers House hostel features several dorm rooms, each with a toilet and a bathroom. A beautiful, lavish garden surrounds the hostel, and you can do your morning yoga stretches or sunset meditations there. Furthermore, you will have access to the BBQ area and the kitchen.
The Pool Villa is family-friendly, and it features double and twin rooms next to the brilliant rice paddies of Canggu. You will receive complimentary water, tea and coffee during the day in both accommodations. We also serve traditional Indonesian and Western cuisine.
Our entertainment program will be one of the most exciting social events during your stay with us. We have a Movie Night at Surfers House garden, a Tradition Balinese workshop and BBQ parties. We even organise trips around Bali for our guest groups, and you are more than welcome to join.
The In Da Surf camp is the perfect place to learn about surfing in Bali for beginners because here you will have a chance to mingle with like-minded individuals, swap surfing stories, tips and tricks. Our coaches will give you their undivided attention and share their knowledge and surfing methods with you.
As our guest, you will be treated like you are a part of the family! We always look forward to working with new, enthusiastic surfers!