Bali Surf Camp
October 04, 2018 | 0 Comment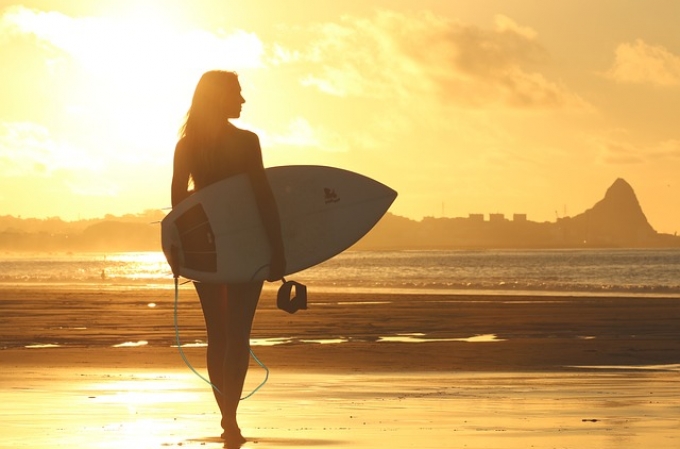 When you lie awake at night and imagine the best possible scenarios in your head, you can already imagine yourself taming the waves on the crystal clear waters in Bali. Sounds like a dream, right? Well, this is a dream that you don't have to wake up from!
Being a part of a Bali surf camp and learning new surfing techniques from some of the best surfing instructors in Indonesia is now easier and more accessible than ever! You wouldn't want to miss out on an opportunity like this, would you?
Bali is one of the most visited surfing tourist attractions because of its perfect climate that allows surfers from all over the world to gather up and conquer the waves, and of course, the beautiful beaches and landscape. Becoming one with nature is what surfing in Bali is all about, after all.

You are guaranteed to have the best surfing experience if you visit Bali anywhere from June to September, because this is the period when winds are the most favorable for surfing. However, if you enjoy quiet and calm waters, visiting Bali in the summer season will be everything you want and more!
Whether you are a beginner or an experienced surfer, taming the waves will become that much easier once you sign up for our Bali surf camp. Not only will you get the tips and tricks you need to know in order to master even the most challenging techniques, but our surf instructors will also show you the best beaches to surf on, and make sure that they are the best choice for you based on your experience level.
You will get to surf on a beach that will work in your favor and help you improve your surfing skills, and you will see lots of secret beaches most travelers do not know about. Talk about surfing like a local!
The basics of our Bali surfing camp
If you are looking to take on surfing, you already know that it requires more than mere physical activity, it is an art that takes time to be truly mastered. This is why our Bali surfing camp focuses on sharing knowledge on the subject before you hit the waves. Signing up for our surf school means more than just a simple exchange of services to us — it means that you are becoming a part of our small surfing community!
Visiting Bali and surfing on some of the most beaches in Indonesia is an experience that you will remember for the rest of your life, but there are hundreds of spots that you usually would not stumble upon without an experienced native surfing instructor. Get ready to take in Bali through our eyes, and make your Indonesian adventure that much more exciting!
Of course, before signing up for a spot in our surf camp, you will want to know what our semi-private surf lessons are like. Our main focus is to keep our students safe and prepared for their lesson. This means that, depending on the weather conditions and your experience level, we pick out the perfect surf spot for you.
The ride to the beach that we decide is best for your needs can take anywhere from 5 to 60 minutes. You will then receive a 15-minute theory surf lesson and get some further instructions about surfing. The theory lesson is followed up by a 5-minute warm up, just to make sure you're ready for the challenge. Once you are all warmed up, the 120-minute surfing lesson begins!
If you are a surfing rookie, this will be just enough time for you to get the basics of surfing and get the hang of it. On the other hand, if you are a more experienced surfer, this time will be spent in working on your technique and improving it! Once your lesson is done, we like to wrap it up with a 10-minute video analysis of your progress. This has shown to be the best way for our students to learn new things and to correct some of the errors they have made. If you are relatively new to surfing, you may want to check out some of our tips for beginners.
More about In Da Surf Camp
As you already know, Bali has some of the most beautiful beaches in the world, and our surf camp makes sure that you visit as many of these gorgeous beaches as you can while you are visiting! The spots we tend to visit with our students are made up of about 80 percent of famous Bali surf spots, and 20 percent secret and hidden spots that usually only natives know about. We find that this is the best way to make you feel like a local while partaking in our Bali surf camp.
What's more, once you are done with your surfing lesson for the day, you can sit back and relax in lots of local and western-styled restaurants and bars in the proximity of our In Da Surf hostel and pool villa. Meeting locals is definitely a must when you come to Bali, because not only will you get to share experiences and start understanding Indonesian culture more, you can also get some great tips on improving your surfing skills.
Can you imagine a better way of escaping your hectic everyday life than truly immersing yourself in the Indonesian culture while staying in its little piece of heaven? We want to make sure that you truly feel like a part of the family during your stay with us, meaning that if you have any concerns or questions when it comes to just about anything, feel free to consult us, and we will be more than happy to help.
Make sure to book your place in our Bali surf camp as soon as possible, and ensure that you are a part of our wavy adventure!