After surfing – eat, chill, explore, stay active
December 25, 2017 | 0 Comment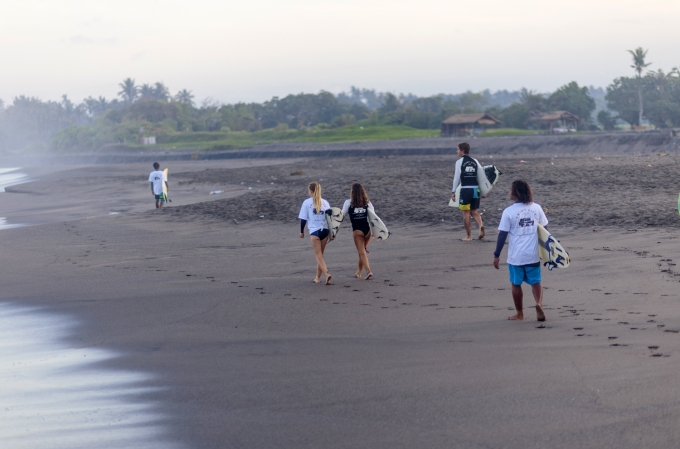 We all know what we came here for – surf, surf and of course surf. But... Whether you want to chill after your
surfing lesson or you want to make the most of your vacation and explore something new while in Bali, here
are some more options for you on the top of the famous places that you probably already heard of.
Enjoy Monday Movie Night at Surfers House
Every once in a while we are simply toooo lazy to go out for fun, so we decide to have fun inside. That's when
the movie nights are on at our place. Check out our notice-board for details, grab your popcorn, invite more
friends and have a cozy evening at Surfers house.
Explore the variety of vegan and non-vegan food options at KOI
If you are staying at Surfers house, you will never forgive yourself for not having those Green tea or
Blueberry pancakes for your perfect start of the day at KOI! And if finding a place both with vegan and non-
vegan food options are always a hustle while traveling with a group, this is your perfect savior. Because it's
literally around the corner.
Meet local organic farmers and artisans at Samadi Sunday market or enjoy organic food every day at Samadi organic café.
It's not just a market, it's a community where it's all about fresh and healthy choices of food. Come and feel the vibes, join for the laughter, music and good food. And no worries if you are not in Canggu on Sunday for the
Market, you can have a fresh organic food adventure at the Samadi kitchen lab every day from 8 am. to 7 pm.
Even more, you can check out one of the events they have – from movie nights to FREE yoga or ecstatic dance!
Chill and watch an amazing sunset at The Lawn
Situated directly on the beach in Canggu, this chic restaurant is a perfect combination of what you might need
after surfing all day. Whether you want to hang and suntan watching the other surfers along the waves or you
are looking for a place to have a cozy dinner with friends – this place is for you. Delicious food, great cocktails
and all of this comes with stunning sunsets and calming sound of the ocean waves.
For raw or cooked fish lovers this is MUST visit place. Big portions of delicious and nicely presented food, good
prices, relaxing atmosphere – you just can't leave Canggu (and Bali!) without checking out this place. No
wonder it is always full during the dinner time, so better book a table if you don't want to miss it out.
Try boxing or Jiu-Jitsu at The Canggu Studio and bring your kids to have some fun too!
If you have a boost of energy during your holidays (as if surfing hasn't exhausted you yet!), Canggu studio
offers you a wide range of classes to check out – Zumba, Power Yoga, Pilates for surfers and many more.
They even have a Brazilian body, how about that?! As they say "however you feel on a particular day, there
will be a class for you". By the way, if you are traveling with kids, they will have loads of fun at Brazilian Jiu-
Jitsu class especially for kids!
If you think you have already tried all the ways of eating bananas in Bali, we have a surprise for you.
Did you know that flour can also be made of bananas? Yes, bananas and it's not only gluten-free but also
basically sugar-free. Rich in natural minerals and vitamins super tasty Made's bakery will leave you
speechless. Oh, and always energized owner of the place is more than happy to explain and tell you all
about banana flour (is he "on bananas" by any chance?).
Start your day at 7 am. every Monday, Wednesday and Friday at Batu Bolong beach. Prepare to sweat,
work hard and have a lot of fun - their fully qualified trainers will help you to make the most of your workout.
All fitness levels and walk-ins are welcome. If you feel like staying in bed this early, book a personal
training for later and have a private Muay Thai, Boxing or Yoga class.
Watch the food being cooked in front of your eyes at Warung Gouthe
Owned by a French chef, it's a place where the food is described as "taste like being back home" even by
French people. Well known for it's delicious French toast, it also offers a different special meal for lunch
every day. Come and have a tasty journey to France while being in Bali.
Have some of the best Mojitos 2 for 1 ALL DAY at Grass Terrace Bali
What is the first thought that pops into your mind when you hear happy hour cocktail? Yes, twice smaller
and twice weaker than usual. Not at this place! If you are a Mojito lover, we must say you are lucky,
because happy hour for Mojitos here is all day long. And even if you are not a big fan of Mojito, you have to
come, because all of their cocktails are to die for!
Owned by a French Yoga master and his Balinese wife this place has been growing as a part of the community
since 2003. Today it offers a choice of activities from Yoga classes, massage and various retreats to some
charity and social events. Come to spend some time as a community member and become a part of this
always-smiling family.
Have a fish BBQ enjoying another amazing sunset on ECO beach
You can never have too many sunsets, especially in Bali. Grilled fish and cold beer, sitting on a comfy
beanbag and watching the locals doing their activities with another amazing sunset on the background. Is
there anything more you could wish for the perfect end of the day?
Enjoy your holiday and have FUN!
No particular location, no special events, no exclusive food options or something else. Because it's
everywhere you go. Because you are in Bali